ABS Italia Serbatoi Srl came into being in 1996 thanks to the owner's 30 years' experience and knowledge over these years in the world of mechanics and compressed systems and, furthermore, thanks to the help and support of all the family. Nowadays it has become a company experienced in the design and production of stainless steel tanks (INOX STEEL) guaranteeing both high quality and safety.
Initially, the company carried out a basic sales service but gradually it increased its range of mass produced articles to be able to offer an excellent assortment, as can well be seen in the catalogue. Now, thanks to the experience and the thoroughness of its team which includes technicians and experienced workers, always ready to learn and to improve their knowledge and skill, it is able to produce a wide range of standard products and, in addition, other versions studied especially for the function of specific needs and ideas of the customer.
After years of hard work, ABS Italia Serbatoi Srl is now capable of supplying the customer not only with a finished article of high quality and safety, but also able to help whosoever contacts it with advice and opinions about the use of the tanks themselves.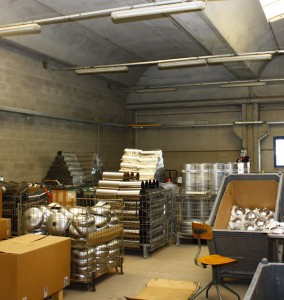 The technical staff is always available and attentive to the requests and the problems of their customers and, in order to give precise answers, avails itself of specialized design software.
The standard production foresees tanks of various sizes (both diameter and length) and with different characteristics (dimensions of the sleeves).
The standard tanks have a volume of between 1 litre up to a maximum 700 litres.
ABS Italia Serbatoi srl also produces special tanks on request with the aim of satisfying all our customers' needs.
In addition, it supplies all the standard and special fittings which are mounted on its tanks.
Furthermore, it carries out works of metal carpentry, paying particular attention to the working of sheet metal, and guarantees to deliver to the customer the item requested, every part of which has been carried out to perfection.
The tanks always undergo a check of quality and testing before sale. At the explicit request of the customer, on ordering, supplementary working requests can be asked for, such as PICKLING, POLISHING, ELECTRO-POLISHING, SHOT BLASTING, GLAZING. This kind of finish makes the tanks a product of the highest quality.